S. Andonova, E. Kalevska, Tz. Dimitrova, M. Petkova, V. Argirova, Tz. Tzvetkov, D. Georgieva
Neurosonology and Cerebral Hemodynamics 10, 2014:23–31
TITLE

Intravenous Thrombolysis in Acute Ischemic Stroke – Five Years of Clinical Experience

AUTHORS

S. Andonova, E. Kalevska, Tz. Dimitrova, M. Petkova, V. Argirova, Tz. Tzvetkov, D. Georgieva

PUBL. DATE

May 2014

SOURCE

Neurosonology and Cerebral Hemodynamics 10, 2014:23–31

TYPE

Periodic scientific journal

ABSTRACT

Objective: To summarize and analyze our results of treating patients with acute ischemic stroke (AIS) with Actilyse® for the last five years.
Materials and Methods: From 2009 to 2013 on the territory of the Second Clinic of Neurology with ICU at the University Hospital "St. Marina" – Varna 166 (3.1%) thrombolyses from a total of 5353 patients with AIS were conducted, classified by the etiopathogenic classification TOAST. The neurological status of each patient was examined and estimated by NIHSS. Laboratory tests, a double CT scan of the brain (after hospitalization and within 24 hours after the trombolysis) and Dupplex scanning of the main brain vessels in the first 24 hours after the onset of symptoms were performed. Evaluation of the functional status of the patients was performed twice with modified Rankin Scale (mRS) – before hospital discharge and 3 months after the incident.
Results: Among the thrombolysed patients with AIS thrombotic stroke has the highest relative part – 43.3% (72/166), followed by cardioembolic – 33.7% (56/166), cryptogenic – 12.8% (20/166) and lacunar – 10.8% (18/166) stroke. Summarized mean time from the admission of the patients in ER to the start of thrombolysis (door-to-needle time) is 75.5±28.3 min. The neurological deficit in admission, estimated with NIHSS varied from 7 to 21 points, mean 13.3±6.9, after hospital discharge the rates were between 1 and 19 points, mean 6.12±5.1. The functional status of the survived patients with thrombolysis, according to mRS (0-2) was registered in 27.6% (37/134) and with mRS (3-5) were 73.8% (99/134) of the patients. On the 90-th day after the stroke with mRS (0-2) i.e. functional independence or without significant neurological deficit were 69.6% (85/122) of the patients, and with significant neurological deficit – mRS (3-5) were 27.9% (34/122). Symptomatic intracerebral hemorrhage was observed in 11 patients (6.6%) with thrombolysis. During the hospitalization 19.7% (32/166) of the patients died.
Discussion: The study suggests relative low rate of treatment with thrombolysis in patients with AIS and similar rate of complications, compared to other studies.

KEY WORDS

acute ischemic stroke, thrombolysis
Cerebrovascular diseases are global medical and social problem due to their high prevalence (morbidity), mortality and disability. According to the World Health Organization (WHO) every year 15 million people worldwide sicken from stroke, 5 mill. of them die and 5mill. stay with permanent disability. Ischemic stroke is the fourth leading cause for death in USA and second leading cause in Australia after the ischemic heart disease, with approximate rate of 60 000 cases per year [5, 15]. The mortality is higher in Central and Eastern Europe comparing to Northern, Southern and Western Europe [20]. For the last 2 years Bulgaria, Romania, Latvia and Macedonia are leading on mortality caused by cerebrovascular diseases.
According to the National Health Center in 2009 in our country 50678 patients suffered from stroke and 95.8% (48551) of them were hospitalized. The cases with acute ischemic stroke prevailed – 85.6% (43578) and 51.2% of them were women [2, 23, 24].
Thrombolysis with rt-PA is now an approved differentiated treatment for ischemic stroke in the acute phase. Different multicentre international studies have confirmed the therapeutic efficacy and safety of alteplase (Actilyse®), comparing to placebo and the relatively low percent of symptomatic intracerebral hemorrhage in patients with AIS: NINDS (1995), ECASS (1995, 1999, 2003), ATLANTIS [6, 11, 16, 21]. Based on these results and with recommendation of ANA (American Heart Association), ASO (American Stroke Organization) and ESO (European Stroke Organization), in 2010 the time for applying the thrombolytic agent was extended from 3 to 4.5 hours. In Bulgaria the first thrombolysis with rt-PA was conducted in 2005 in Plovdiv [2, 23, 24].
The aim of this study is to summarize and analyze our own five-year experience results of applying intravenous thrombolysis with Actilyse® for treatment of AIS.
Materials and Methods
The first intravenous thrombolysis in the University Hospital "St. Marina" – Varna was conducted in April 2007. From 2007 to 2009 2935 patients with AIS were hospitalized and 20 intravenous thrombolyses (0.7%) were conducted, analyzed in our first scientific report in 2010 [2]. The current investigation covers a five-year period from 2009 to 2013. For this period in the Second Clinic of Neurology with ICU 5353 patients with AIS were hospitalized and 166 (15.9%) thrombolyses were conducted (table 1).

According to the ethiopathogenic classification TOAST, patients treated with thrombolysis are classified as: 43.3% (72/166) – with thrombotic stroke, 33.7% (56/166) – cardioembolic stroke, 12.8% (20/166) – cryptogenic and 10.8% (18/166)- lacunar stroke. Their risk factors are presented in table 2.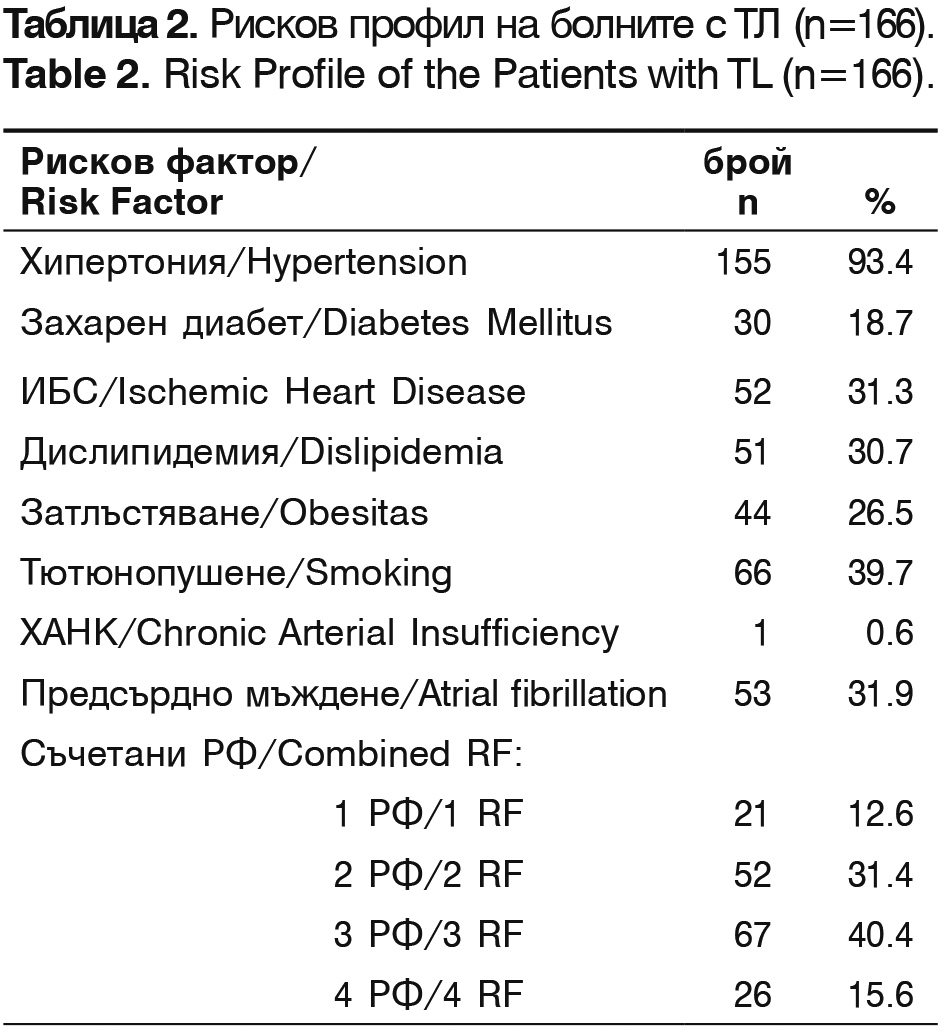 The leading risk factors are arterial hypertension, smoking, atrial fibrillation and ischemic heart disease. The patients with combined two and three risk factors constitute 71% of all patients.
The severity of the neurological deficit in each patient is estimated with NIHSS. Laboratory tests, a double CT scan of the brain (after hospitalization and within 24 hours after the thrombolysis) and Dupplex scanning of the brain vessels in the first 24 hours after the onset of the symptoms are performed. The evaluation of the patients' functional status is twice performed with modified Rankin Scale (mRS) – after hospital discharge and 3 months after the incident.
Results
The average time from the beginning of symptoms to the hospitalization in the emergency room (ER), the beginning of treatment with Actilyse®, CT performance and the receiving of the laboratory results are shown on table 3.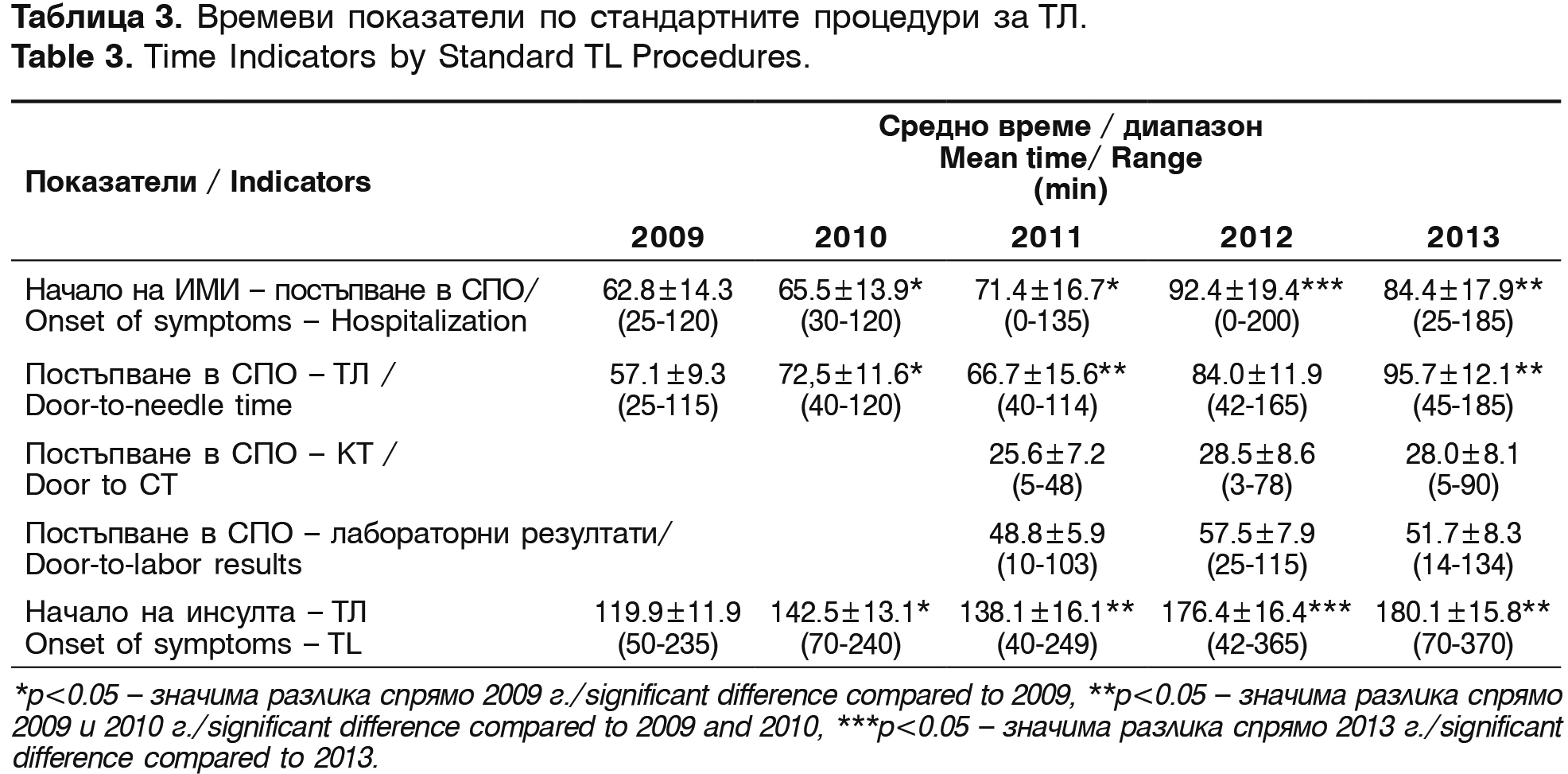 The mean time from the admission of the patients in ER to the beginning of thrombolysis (door-to-needle time) is 75.2±28.3 min. The mean time from the onset of the symptoms to the start of the treatment is 151.4 min. One of the reasons for this prolonged mean time in the last 2 years is the prolonged time window for thrombolysis in the protocol – from 3 to 4.5 hours from the AIS oncet.
The neurological deficit is established with NIHSS right after admission and before hospital discharge, and the functional status of the survivors – with modified Rankin Scale (mRS) – before hospital discharge and 3 months after the incident. The results are summarized on table 4.

In admission the neurological deficit with NIHSS is 13.3±6.9 points. In discharge NIHSS for the same period is 6.12±7.1. Improvement with more than 10 points is seen in 31 patients (23.1% from all discharged patients) and with deficit lower or even to 4 points are 62 patients (46.2%). A positive correlation between the start time of thrombolysis and NIHSS points (r=+0.53, p<0.01) is established. Factors of determination show that 63.2% of registered improvements are connected to the time of admission.
Before hospital discharge mRS (0-2) is registered in 27.6% patients (37/134) and mRS (3-5) – in 73.8% (99/134) of the survived patients. On the 90th day after the stroke onset with mRS (0-2) i.e. functional independent or without significant neurological deficit are 69.6% (85/122) patients and with significant neurological deficit – mRS (3-5) are 27.9% (34/122). There is a significant negative correlation between the level of functional independence of the patients and the follow-up time (in discharge and after 90 days), for both mRS (0-2), (r=-0.56, р<0.05) and mRS (3-5), (r=-0.43, р<0.05). With normal brain CT in hospitalization are 31.3% of the patients and those with early signs of AIS or already formed ischemic region are 68.8% (table 5). This can be explained with the fact that during the last few years the time from the symptoms' onset to the arrival in the hospital and respectively to the CT performance has been increased (table 3 and 5). The prolonged therapeutic time from 3 to 4.5 hours allows to detect an increasing number of patients with early signs of AIS or already formed ischemic region, not larger than 1/3 of the cerebral hemisphere (r=+0.32; р<0.01). According to the protocol control CT is conducted on the 24th hour after the thrombolysis. In 84.9% of the patients an ischemic zone is observed.

Symptomatic intracerebral haematomas are observed in 11 (6.6%) of all thrombolysed patients for the described five-year period During hospita­lization 19.27% (32/166) of the patients died, as the intracerebral hemorrhage was cause for death in 8 of them. In the other cases the reason is lack of recanalization, malignant brain edema, fallowed by herniation, cerebrovascular pathology and severe comorbidity, leading to death.
Discussion
Our current study confirms the good therapeutic effect of intravenous thrombolysis with rt-PA, applied up to 4.5 hours from the onset of AIS. As shown in other studies this treatment improves early and late functional outcome after stroke, has a good safety profilе and low level of hemorrhagic complications [26].
International studies demonstrate that several objective factors limit the application of thrombolysis in AIS [7, 8], among them short therapeutic time window and many additional contraindications have a key role [25]. In Eissa et al. study [7] including 2165 patients, 13% were excluded due to contraindications, and in Barber et al. study [4] – the number of excluded achieved 31%. Regardless of thrombolytic therapy one third of the patients remain functional dependent or die [8]. which indicates the low percentage of thrombolysis even in hospitalized patients [25] – the percentage varies from 1 to 10 in different countries (in Australia is around 3%, in USA – around 2%, in Austria – 12.8%) [9]. In some countries this kind of treatment is not even applied – for example in Georgia.
Our results demonstrate that from all patients with AIS, hospitalized between 2009 and 2013 in Second Clinic of Neurology with ICU at the University Hospital "St. Marina" – Varna, thrombolysis with Actilyse® received only 3.1%. Patients suitable for treatment with Actilyse don't arrive in time in the hospital's ER. The trend for small increase of i.v. thrombolysis between 2009 and 2013 is a result of the joint efforts of the different emergency teams and created interdisciplinary algorithm of conduct with 24-hour secured laboratory and neuroimaging tests.
The SITS – VISTA study with 30,000 patients determines that treated with thrombolysis patients have better clinical outcome regardless of their age [28]. It is established that a favorable outcome, evaluated by mRS 3 months after the treatment, is more probable after early thrombolytic onset and in lighter neurological deficit estimated with NIHSS. The ECASS, NINDS, ATLANTIS and EPITHET studies demonstrate that there is no benefit from applying the rt-PA after 270 min., as the risks can surpass the benefit [6, 11, 16, 21].
Our results show, that in comparison to 2009 the mean time from the symptoms' onset to the arrival in ER and starting the thrombolysis have increased as result of prolonged therapeutic window to up to 4.5 hours. Despite of prolonged time window the percentage of intracranial hemorrhages has not increased – 6.6%. The same percentage is reported from the most world centers conducting thrombolysis. The same applies for mortality rate percentage after thrombolysis.
The mean time from the symptoms' onset to the treatment beginning is 151.4 min. The mean NIHSS in admission is 13.3 points and in discharge – 5.9 points, which means that we have a decrease of 7.4 points. Comparison between our results and the results from other centers is shown on table 6.
In comparison to international studies, our investigation shows similar results for mean time from the symptoms' onset to the start of the thrombolysis, similar severity of stroke, estimated with NIHSS and lower mean age of thrombolysed patients, which can be the reason for the lower mortality rate in our contingent. The frequency of the intracranial hemorrhages is in the same range as in literature's data.
The significance of early CT signs in AIS is contradictory regarding the risk of intracranial hemorrhages [1, 27, 28]. In our study 68.6% of the patients have early ischemic signs which contrasts with the relatively low percentage of death and hemorrhagic complications.
The European Stroke Organization (ESO) recommends continuous control over the routine use of rtPA for AIS treatment. One example is the International Stroke Thrombolysis Register (SITS), created for safety and efficiency control of routine use of rt-PA in AIS. Since 2011 the University Hospital "St. Marina" – Varna has been registered as a center in SITS (with 1134 registered centers in 2014). From the end of 2013 five new Bulgarian centers have been registered in SITS, still waiting to be analyzed. The center in Varna is one of the first in Europe in number of patients, followed-up for a 3 month period after AIS.
In conclusion the study demonstrates a relatively low rate of treatment with intravenous thrombolysis and similar rate of complications compared to other international investigations. Regardless of the positive trend for development of thrombolysis in our center, complex efforts for education of the population, work improvement and coordination of the teams included in diagnosis and treatment of AIS are needed.
REFERENCES
1. Albers G, Bates V, Clark W, Bell R, Verro P, Hamilton S. Intravenous tissue-type plas- minogen activator for treatment of acute stroke: the Standard Treatment with Alte- plase to Reverse Stroke (STARS) study. J Am Med Assoc 283, 2000:1145–1150.
2. Andonova S, Kirov F, Мinchev D, Bachvarov Ch, Georgieva V, Bocheva D. Thrombolytic Therapy in Acute Ischemic Cerebral Stroke – a Pilot Study. Stroke with Thrombolysis in Bulgaria. Neurosonology and Cerebral Hemodynamics 6, 2010:15–19.
3. Bansal S, Kiranpal S, Sangha KS, Pooja Khatri P. Drug Treatment of Acute Ischemic Stroke. Am J Cardiovasc Drugs. 13, 2013:1–13.
4. Barber P, Zhang J, Demchuk A, Hill M, Buchan A. Why are stroke patients excluded from TPA therapy?: an analysis of patient eligibility. Neurology 56, 2001:1015–1020.
5. Ciccone A. Consent to thrombolysis in acute ischaemic stroke: from trial to practice. Lancet Neurology 2, 2003: 375–78.
6. Clark WM, Wissman S, Albers G. Intravenous rt-PA for acute ischemic stroke beyond 3-hours. (ATLANTIS). JAMA 282, 1999:2019–2016.
7. Eissa A, Krass I, Bajorek B. Optimizing the management of acute ischaemic stroke: a review of the utilization of intravenous recombinant tissue plasminogen activator (tPA). Journal of Clinical Pharmacy and Therapeutics 37, 2012: 620–629.
8. Eissa A, Krass I, Bajorek B. Barriers to the utilization of thrombolysis for acute ischaemic stroke. Journal of Clinical Pharmacy and Therapeutics 23, 2012:211–221.
9. Ferrari J, Knoflach M, Kiechl S, Willeit J, Matošević B. For the Austrian Stroke Unit Registry Collaborators. Stroke Thrombolysis: Having More Time Translates Into Delayed Therapy. Stroke 41, 2010:2–5.
10. Frank B, Grotta JC, Alexandrov AV, Bluhmki E, Lyden P, Meretoja A, Mishra NK, Shuaib A, Wahlgren NG, Weimar C, Lees KR. Thrombolysis in Stroke Despite Contraindications or Warnings? Stroke 44, 2013: 727–733.
11. Hacke W. Intravenous thrombolysis with recombinant tissue plasminogen activator (ECASSI). JAMA 274, 1995:1017–1025.
12. Kirmani J. F., Alkawi A, Panezai S et al. Advances in thrombolytics for treatment of acute ischemic stroke. Neurology 79, 2012:119–125.
13. Mishra N, Ahmed N, Andersen G. Thrombolysis in very elderly people: controlled comparison of SITS International Stroke Thrombolysis Registry and Virtual International Stroke Trials Archive. BMJ 40, 2013:134–156.
14. Molina C. Reperfusion Therapies for Acute Ischemic Stroke: Current Pharmacological and Mechanical Approaches. Stroke 42, 2011:16–19.
15. Mullen M, Pisapia J, Tilwa Sh. Systematic Review of Outcome After Ischemic Stroke Due to Anterior Circulation Occlusion Treated With Intravenous, Intra-Arterial, or Combined Intravenous + Intra-Arterial Trombolysis. Stroke 43, 2012:2350–2355.
16. NINDS Investigators – Donnan J, Davis S, Kaste M. Efficancy of tissue plasminogen activator for storke. N ENGL J Med 333, 1995:1581–1514.
17. Prazdnizkova V, Alasheev M, Shalagina A, Volkova I. Analysis of factors influencing the early efficiency of systemic thrombolytic therapy for ischemic stroke. Neurology, neuropsychiatry, psychosomatics 3, 2013: 32–35.
18. Ramaiah S, Yan B. Low-Dose Tissue Plasminogen Activator and Standard-Dose Tissue Plasminogen Activator in Acute Ischemic Stroke in Asian Populations: A Review Cerebrovasc Dis. 4, 2013:161–166.
19. Sandercock P, Lindley R, Wardlaw J. Update on the third international stroke trial (IST-3) of thrombolysis for acute ischaemic stroke and baseline features of the 3035 patients recruited. Biomed central 12, 2011:1–9.
20. Saposnik G, Gladstone D, Raptis R. Atrial Fibrillation in Ischemic Stroke: Predicting Response to Thrombolysis and Clinical Outcomes. Stroke 44, 2013:99–104.
21. Schellinger P, Hacke W, Fiebach J. Thrombolysis with Alteplase 3 to 4.5 hpurs after acute stroke. (ECASSIII). N Engl J Med 359, 2008:2839–2841.
22. Seet R, Rabinstein A. Symptomatic Intracranial Hemorrhage following Intravenous Thrombolysis for Acute Ischemic Stroke: A Critical Review of Case Definitions. Cerebrovasc Dis 34, 2012:106–114.
23. Titianova Е, Velcheva I, Stamenov B. Treatment of Acute Ischemic Stroke with Thrombolysis in Bulgaria. Neurosonology and Cerebral Hemodynamics 6, 2010:9–14.
24. Titianova Е, Velcheva I, Stamenov B. Treatment of Acute Ischemic Stroke with Thrombolysis problems and perspectives. Neurosonology and Cerebral Hemodynamics 5, 2009:122–123.
25. Uyttenboogaart М, Luijckx J. Intravenous thrombolysis for patients with ischaemic stroke on antiplatelet therapy: a blessing in disguise? European Journal of Neurology 17, 2010:177–178.
26. Willey J, Petersen N, Dhamoon M, Stillman J. Safety of thrombolysis in patients over the age of 80. Neurologist 18, 2012:99–101.
27. Hill M, Buchan A. Thrombolysis for acute ischemic stroke: results of the Canadian Alteplase for Stroke Effectiveness Study (CASES). CMAJ 172, 2005:1307–1312.
28. Wahlgren N, Ahmed N, Da ´valos A. Thrombolysis with alteplase for acute ischaemic stroke in the Safe Implementation of Thrombolysis in Stroke-Monitoring Study (SITS-MOST): an observational study. Lancet 369, 2007:275–282.
29. Wahlgren N, Ahmed N, Eriksson N, Aichner F, Bluhmki E, Dávalos A, Erilä T, Ford G, Grond M, Hacke W, Hennerici M, Kaste M, Köhrmann M, Larrue W, Lees K, Machnig T, Roine R, Toni D, Vanhooren G. Multivariable analysis of outcome predictors and adjustment of main outcome results to baseline data profile in randomized controlled trials: Safe Implementation of Thrombolysis in Stroke-Monitoring Study (SITS-MOST). Stroke 39, 2008:3316–3322.