Z. Stoyneva
Neurosonology and Cerebral Hemodynamics 10, 2014:38–42
TITLE

Microvascular Disorders in Hand-Arm Vibration Syndrome

AUTHOR

Z. Stoyneva

PUBL. DATE

May 2014

SOURCE

Neurosonology and Cerebral Hemodynamics 10, 2014:38–42

TYPE

Periodic scientific journal

ABSTRACT

Objective: to assess microvascular morphological and functional changes in patients with hand-arm vibration syndrome (HAVS).
Material and Methods: Thirty HAVS patients and 30 healthy controls were included. After acclimatization, all subjects underwent nailfold capillaroscopy (NFC) and infrared thermography followed by laser Doppler flowmetry measurement. NFC was performed with a microscope under 30× to 60× magnification in the eponychium of the fingers. Skin blood flow of the volar part of the fingertips was measured using laser Doppler flowmeter Periflux4001 at baseline and by lowering the arm from heart level hanging to test skin venoarteriolar microcirculatory responses.
Results: Spastic narrowed capillaries or capillary dilatation and tortuosity with pericapillary oedema prevailed in the HAVS patients (p<0.001). The initial mean fingertip skin perfusion and skin temperatures in HAVS patients were significantly lower compared to the healthy controls. The veno-arteriolar indices were significantly abnormal. Loss of veno-arteriolar reflex responses was established in 36.7% of vibration induced secondary Raynaud's phenomenon patients proving local vasomotor dysfunction reflecting either postganglionar sympathetic insufficiency with vascular tone failure or altered microvascular smooth muscle cells' responses. A negative correlation was found between increasing capillary abnormalities and decreasing flow rates at rest and skin blood flow responses in venoarteriolar reflex test.
Discussion: The assessment of nutritional capillary skin blood flow by capillaroscopy and global skin blood flow including thermoregulatory microcirculation by Doppler flowmetry and infrared thermography give thorough information about skin microvascular circulation and vasomotor function. Morphological and functional assessment of the cutaneous microvasculature has a crucial significance for diagnosis, prognosis and treatment of patients with hand-arm vibration syndrome.

KEY WORDS

capillaroscopy, hand-arm vibration syndrome, laser Doppler flowmetry, microcirculation, thermography
Microvascular damages and dysfunctions are some of the morphological and functional markers of hand-arm vibration syndrome (HAVS), a specific occupational disease caused by exposure to vibration at work, characterized by peripheral vascular, nervous and musculoskeletal abnormalities in the upper limbs. The microvascular changes are characterized by spasm, Raynaud's phenomenon, and thrombosis secondary to vibration exposure.
Many regulatory factors participate in pathophysiological mechanisms of vibration-induced microvascular changes. Autonomic dysbalance with increased sympathetic activity and/or parasympathetic depression, probably initiated by overstimulation of Pacinian corpuscles has been established [1, 9]. Mechanical damage to blood vessels, vasoregulatory nerve elements, especially sympathetic vasoconstrictor nerves and receptors in fingers and digital cutaneous perivascular nerves containing the neuropeptide with powerful vasodilator properties calcitonin gene-related peptide (CGRP) has been described [2, 3, 6, 10]. Pain-mediating nerve fibers and receptors, temperature nerve-endings, mechanoreceptors at the fingertips are affected by hand-arm vibration [5]. The neural deficit in digital skin of patients with VRP has a functional counterpart with reduced ability to propagate an axon-reflex vasodilator response [4]. Various degrees and forms of endothelial damage and dysfunctions may derive as a result of hand-arm vibration exposure [11].
The objective of the study is to assess noninvasively microvascular morphological and functional changes in patients with HAVS.
Material and Methods
Thirty HAVS patients and 30 healthy controls were included in the study. After acclimatization, all subjects underwent nailfold capillaroscopy, infrared thermography and fingertip laser Doppler flowmetry. The nailfold capillaroscopy was performed in the eponychium of the fingers with a microscope at 30× to 60× magnification. Skin blood flow of the volar part of the fingertips was measured in perfusion units (PU) using laser Doppler flowmeter Periflux4001 as initial values, at a temperature of 32°C with hands on the sternum (PUh) as a baseline and by lowering the arm from heart level hanging in dependency (PUd) to test skin venoarteriolar microcirculatory reflex responses (VAR). VAR indices were analyzed: delta VAR (ΔVAR) calculated as (PUd – PUh); percent change of perfusion (%change) – (ΔVAR/PUh).100; and venoarteriolar constriction response (VAC) – (PUd/PUh).
Results
The spastic narrowed capillaries or capillary dilatation and tortuosity with aneurysms and pericapillary oedema prevailed in the HAVS patients (p<0.001) (fig. 1).

Fig. 1. Capillarographies in havs patients. Spastic capillaries, a single dilated one (A). Shortned, dilated capillary loops, decreased number, loss of capillaries (B). Capillary polymorphism – shortened, spastic, dilated, aneurysmal capillaries (C). Tortuous, dilated and aneurysmal capillaries (D).
The initial mean skin temperatures in HAVS patients were significantly lower compared to the healthy controls. Hypothermy of the hands and especially of the fingers in HAVS patients was established by infrared thermography, seen in fig. 2.

Fig. 2. Infrared thermography in HAVS. Thermoamputation of the distal phalanges of the fingers with temperature gradient wrist-fingers up to 4°C (A). Thermoamputation of the fingers and distal palms with temperature gradient wrist-fingers up to 4.5°C (B).
The fingertip skin perfusions were also significantly lower in patients than in healthy controls (fig. 3), but with wide overlap of the values in individual cases.

Fig. 3. Initial fingertip skin perfusion. PU – perfusion units; 1 – group of healthy controls, 2 – HAVS group.
Changes in bodily parts' position related to the level of the heart cause local neural regulatory vasomotor responses. The dynamics of skin perfusion during venoarteriolar test is presented in figure 4. Venoarteriolar reflex responses to lowering the hands below heart's level suppose a decrease of miscrovascular skin perfusion. In HAVS patients this reflex was quite abnormal. Significantly reduced sympathetically mediated axon-reflex response was established in HAVS patients without changes in skin blood flow values or even an increase instead of a decrease of skin perfusion.

Fig. 4. Dynamics of skin perfusion during venoarteriolar test. PU – perfusions units; PUi – initial PU; PUb –basal PU at 32°C; PUh – at heart level; PUd – in dependency; RP – Raynaud's phenomenon; Ssc – scleroderma; *-p<0.05; **-p<0. 0001 compared to former perfusion value.
The venoarteriolar indices were significantly different between HAVS patients and healthy controls. The percent changes and delta perfusion indices were significantly higher in the control group compared to the HAVS group. The vasoconstriction indices between patients and controls differed, too, being higher in patients (p<0.0001). Loss of venoarteriolar reflex (ΔPU≥0) was established in 36.7% of HAVS patients.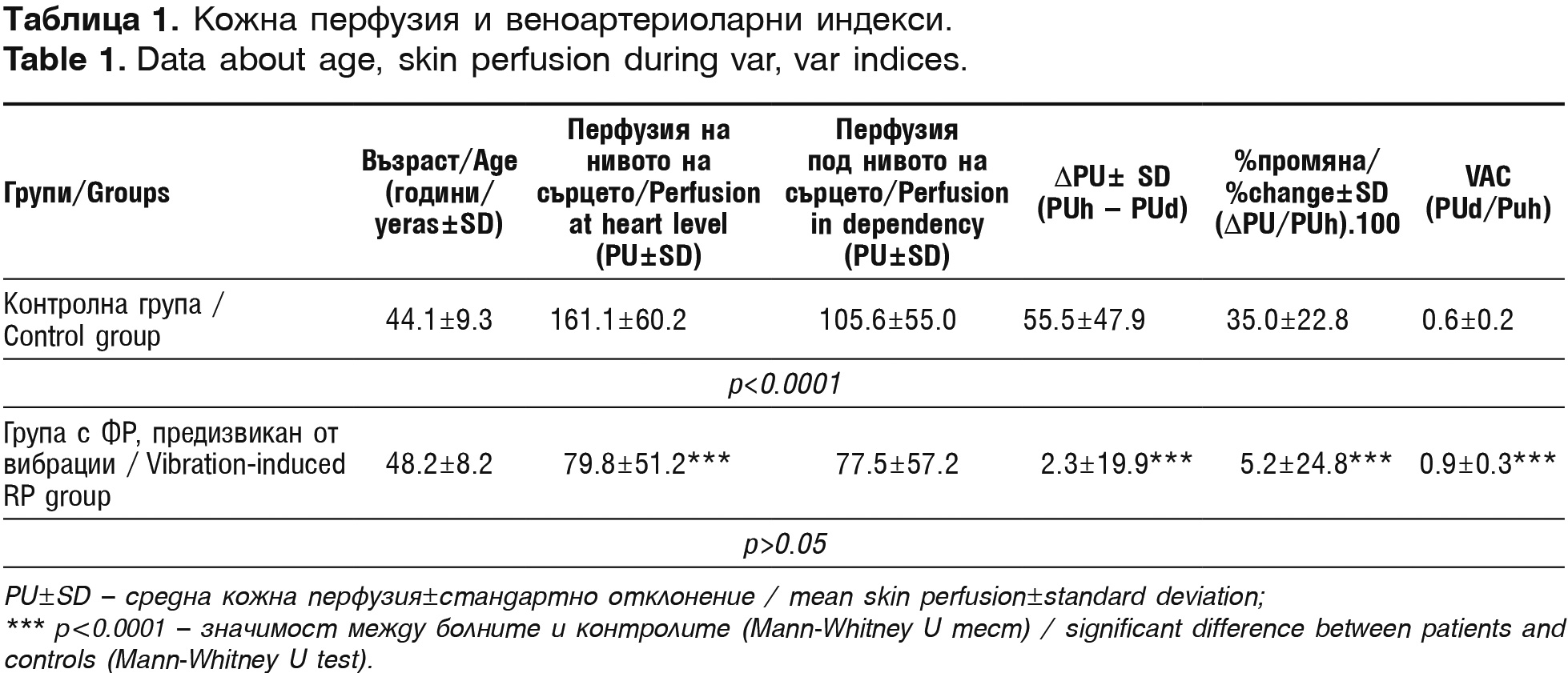 Discussion
Morphological changes of nutritional skin microvessels observed in vivo by nailfold capillaroscopy established both functional spastic and structural aneurismal and tortuous capillaries in HAVS patients. They corresponded to the decreased initial mean superficial skin temperatures and hypothermies of the hands and especially of the fingers in HAVS patients by infrared thermography, and lower initial mean skin perfusions of the fingertips. The significantly higher prevalence rate of impaired venoarteriolar reflex in HAVS patients proved local vasomotor dysfunction and reflected either postganglionar sympathetic insufficiency with vascular tone failure or altered vascular smooth muscle cells' responses. Presented data confirm vibration-induced microcirculatory disorders established by many investigators [7, 8].
In conclusion, the assessment of nutritional capillary skin blood flow by capillaroscopy and global skin blood flow including thermoregulatory microcirculation by Doppler flowmetry and infrared thermography give thorough information about skin microvascular circulation and vasomotor function. Morphological and functional assessment of the cutaneous microvasculature has a crucial significance for diagnosis, prognosis and treatment of hand-arm vibration syndrome patients.
REFERENCES
1. Bovenzi M. Some pathophysiological aspects of vibration induced white finger. Eur J Appl Physiol 55, 1986:381–389.
2. Bunker CB, Goldsmith PC, Leslie TA, Hayes N, Foreman JC, Dowd PM. Calcitonin gene-related peptide, endothelin-1, the cutaneous microvasculature and Raynaud's phenomenon. Br J Dermatol 134, 1996:399–406.
3. Dowd PM, Goldsmith PC, Burnstock G, Marshall I, Bull H, Foreman JC. Raynaud's phenomenon. Lancet 346, 1995:283–290.
4. Dowd PM, Goldsmith PC, Chopra S, Bull HA, Foreman JC. Cutaneous responses to endothelin-1 and histamine in patients with vibration white finger. J Invest Dermatol 110, 1998:127–131.
5. Gemne G. Pathophysiology of white fingers in workers using hand-held vibrating tools. Nagoya J Med Sci 57, 1994:87–97.
6. Goldsmith PC, Molina FA, Bunker CB, Terenghi G, Leslie TA, Fowler CJ, Polak JM, Dowd PM. Cutaneous nerve fiber depletion in vibration white finger. J R Soc Med 87, 1994:377–381.
7. Harada N, Mahbub MH. Diagnosis of vascular injuries caused by hand-transmitted vibration. Int Arch Occup Environ Health 81, 2008:507–518.
8. Heaver C, Goonetilleke KS, Ferguson H, Shiralkar S. Hand-arm vibration syndrome: a common occupational hazard in industrialized countries. J Hand Surg Eur. 36, 2011:354–363.
9. Heinonen E, Fakkila M, Forsstrom J, Antila K, Jalonen J, Korhonen O, Pyykko I. Autonomic neuropathy and vibration exposure in forestry workers. Br J Ind Med. 44, 1987:412–416.
10. Shawket S, Dickerson C, Hazleman B, Brown MJ. Selective suprasensitivity to calcitonin-gene-related peptide in the hands in Raynaud's phenomenon. Lancet 8676, 1989:1354–1357.
11. Stoyneva Z, Lyapina M, Tzvetkov D, Vodenicharov E, Current pathophysiologic views on vibration induced Raynaud's phenomenon. Cardiovasc Res. 57, 2003:615–624.